The Do's And Don'ts Of Document Shredding
19.08.2021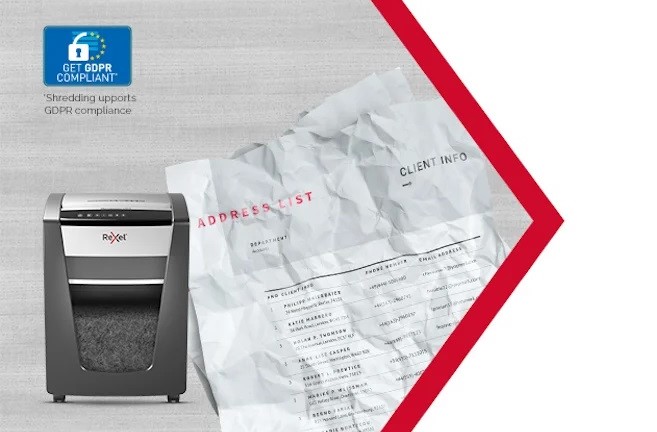 Load the paper, press go and watch the document particles fall into the bin. Shredding is easy, right? With businesses and organisations having a legal obligation via the GDPR to protect sensitive data, shredding popularity has grown 23% across the UK, Germany and France¹. Today, operating a shredder correctly and performing maintenance to ensure its longevity are paramount for security purposes. The article below discusses the top do's and don'ts for document shredding success.
Don't shred unspecified items
It is no secret that shredders are mostly used to shred paper documents. However, depending on the type of shredding machine, some have various capabilities and can handle not only paper, but also: -
Stapled documents

Paper clipped documents

Credit cards

Bound documents

Laminated documents

Cardboard

Thin plastics
Every shredder machine on the market will detail the specific items that it can destroy. If a shredder does not dictate that it can shred a certain item, this should not be attempted for safety reasons. Forcing an item through a shredder that is not capable of cutting it into pieces will likely result in a broken machine. Fortunately, there are a multitude of Rexel shredders that can dispose of the above items, as well as standard paper documents.
Don't go over the maximum page load capacity
Every shredder machine will have a maximum page load capacity; this refers to the number of A4 sheets that can be shredded at one time. Page load capacities vary between manual and AutoFeed shredders. With a Rexel Optimum AutoFeed+ paper shredder the minimum capacity is 45 sheets of standard A4 paper, scaling up to 750 sheets. In comparison, manual shredders tend to vary between a page load capacity of 8 to 20 sheets of paper.
Medium and large sized businesses tend to favour high page load capacity shredders as large amounts of paper can easily be destroyed at one time. Rexel's range of AutoFeed Shredders have large page load capacities, which means productivity can remain high throughout a company.
Never exceed the page load capacity of a shredder as this can cause damage to the machine.
Do shred documents sooner rather than later
Storing sensitive paper documents can make businesses and organisations vulnerable to data breaches. Therefore, shredding documents as soon as possible is an ideal solution to avoid and prevent any theft of confidential information.
The security level of a shredder will need to reflect the sensitivity of the documents that are being disposed of regularly. Different shredders will present a different DIN security level, which is shown as a P-Rating. The P-Rating indicates the number of pieces that a document is shredded into with that particular model. A P-Rating guide can be seen below to help you make the best choice for your office shredder:
| | | |
| --- | --- | --- |
| P-Rating | Approximate Shredded Pieces (A4 Document) | Best For |
| P-2 | 40 | Basic day to day non-sensitive data |
| P-3 | 200 | General day to day documents containing sensitive data such as addresses |
| P-4 | 400 | Ideal for bank statements and business confidential documents |
| P-5 | 2000 | Appropriate for confidential financial or personal documents and strategic papers |
| P-6 | 6000 | Necessary for legal, military and financial documents containing proprietary data |
| P-7 | 12500 | The top standard for government and military reports |
For example, the Optimum AutoFeed 45X shredder has a P-4 security rating, meaning a standard A4 document is shred into 400 pieces. In contrast, the Optimum AutoFeed+ 750M can shred an A4 sheet into 2000 micro cut pieces which is a higher security model of shredder.
Don't purchase a shredder based on price
Often, shredders at the cheaper end of the spectrum are ideal for home use as they tend to have a lower sheet capacity or security rating. The higher the sheet capacity, security level, bin capacity and whether it is manual or AutoFeed, the more expensive a machine is. Businesses and organisations should invest in a shredder that suits their specific requirements and should avoid purchasing the least expensive model.
Do shred sensibly
Shredders, as long as they are maintained correctly, will provide years of service. No matter how big or small a machine is, the instruction manual should always be read before use. Furthermore, inserting documents correctly and not feeding unmanageable paper sizes or documents will ensure that a shredder will continue performing seamlessly.
Do let your shredder cool down
Each shredder will have a cool down period that will need to be abided by. Shredders have a motor capacity and frequent use without a break can damage the machine.
What sets Rexel's AutoFeed shredders apart from the rest is their exceptional runtimes. Many models allow for at least 60 minutes continuous run time, from the moment they are switched on. This allows businesses and organisations to perform efficiently at all times.
Allowing a few minutes cool down before each shredding task and before being switched off is the best way to help maintain a shredder.
Do create shredding guidelines
All workplace environments storing sensitive paper documentation should be home to a shredder machine and need to have a set of guidelines that all employees can follow. These should be located near all machines so that employees use them correctly, eliminating common issues such as forcing too much paper in, shredding incorrect materials and over-heating the machine.
Purchasing a shredder can feel daunting due to the countless models on offer. To help you make the best decision when it comes to buying a shredder for your business or organisation take a read of the extensive Rexel Paper Shredder Buying Guide.
Sources
GFK 2018 H1 EU3 *Shredding supports GDPR compliance