OUR HISTORY
- 80 Years Of Heritage -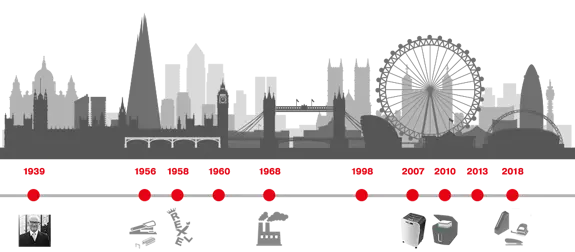 - Our Story -
Each company has its own story to tell. At Rexel, we are immensely proud of our brand heritage which has allowed us to establish expert knowledge and develop market leading, quality products for our customers; whether they're for use at the office, at home, or at school.
Founded in 1939, Rexel manufactures a wide range of office products to improve everyday productivity and efficiency, adding value to your life. Today, Rexel has flourished to become one of the the leading manufacturers of workplace office equipment. With over 80 years of industry experience, we are also proud to be a primary brand in the innovative Auto Feed shredding category.
Rexel Then - 1939
The Best £100 He Ever Spent!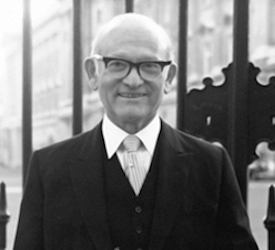 l
George Drexler, founder of Rexel, was born in 1908 near Prague. In the early 1930s he moved to Hamburg and worked for a German office supply company, who sent him to London in 1935 to start a branch in England.
In 1939 he borrowed £100 to found his own company and this was to be the start of the Ofrex Group of Companies.
The companies flourished and grew quickly to employ over 1,000 workers; manufacturing office products in the UK and internationally. Rexel then sold the products to the retailers and Ofrex sold to the end user.
The group went public in the 1960s and Mr Drexler was awarded an OBE in 1976 for his services to export.
Rexel Now - 2019
Working For You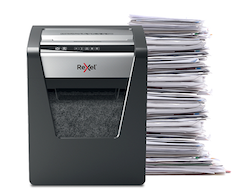 l
Rexel celebrated its 80th birthday this year and continues to be a leader in business machines and office products.
Our products are available in over 100 countries across Europe, Middle East and Africa.
The most recent innovation launched by Rexel is the Momentum Shredder range which combines high quality innovative technology and designs from a reliable and professional brand.
- Rexel Evolves Over 80 Years -
- Sustainability -
One of ACCO Brands' core values is acting responsibly in our global community.
We believe that doing well as a business goes hand-in-hand with being good citizens. Our initiatives are global in scope and include social, environmental, employment, governance and charitable programs that benefit our employees, shareholders, customers and communities where we do business.
ACCO Brands EMEA Sustainability Development 2018 Report