Top
Data protection is one of the primary motivations for buying a shredder.

Whether you are a business or consumer, read our buying guide before buying a paper shredder to ensure that you ask the questions that will ensure you're buying the right shredder to combat identify theft.
Top
Who is going to use the shredder?
This is really important but is often overlooked, especially by businesses. The profile of the people using the shredder has a huge bearing on the type of documents that they will be shredding.
Businesses may have confidential documents that simply need to be destroyed and will require a shredder with a higher security rating where as home users will want to shred bank statements and any document detailing personal information that they wish to shred and maybe recycle.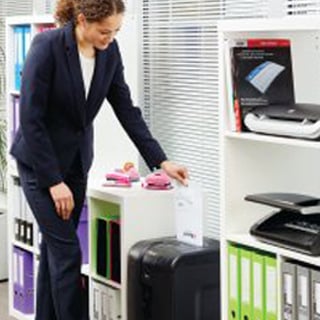 How frequently will the shredder be used?
If a shedder is going to be used frequently it will be shredding more paper. Customers aware of their shredding volume often shop for larger bin capacities and small cut pieces to avoid frequent bin emptying.

Take care to shop by shredder bin capacity in terms of sheets, not just litres.

Shredders that offer Auto Feed shredding allow stacks of paper to be shred in one go, rather than being fed manually. Rexel Auto Feed models offer a 98% time saving over manual feed models and over a period of time generate real productivity savings.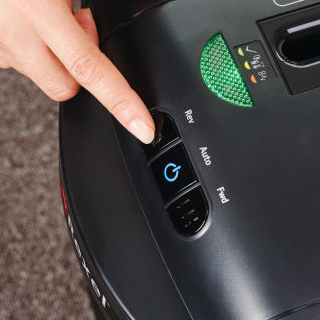 How big does the shredder bin need to be?
It is always best to shop by sheets stored in the bin rather than bin size alone. Shredders shared by multiple users will generally generate more shredding and so a bin size of 600 sheets or at least 80L is generally recommended for shredders serving more than 10 users.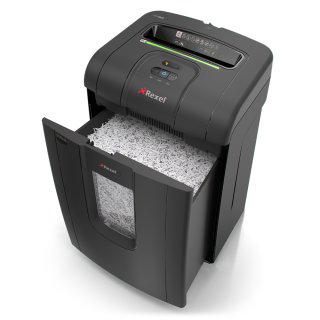 How long do you need the shredder run for?
The motor of a paper shredder generates heat. Good shredders feature a safety mechanism which allows a shredder to cool down before the temperature rises too high. We refer to the length of time that a shredder will run for before cooling down automatically as it's "run time".

The longer the run time the more you can shred in one go.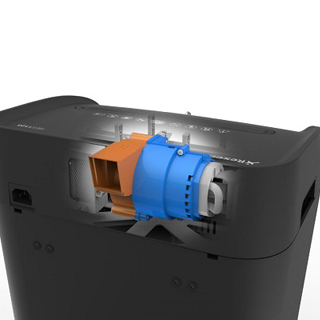 How fast do you need the shredder to shred?
Manual feed shredders become immediately more time consuming than Auto Feed shredders once more than a few sheets need to be shredded. Auto Feed shredders allow more sheets to be shredded at once as they accept a stack of paper and allow the user to walk away. We refer to this as "hands-free" shredding.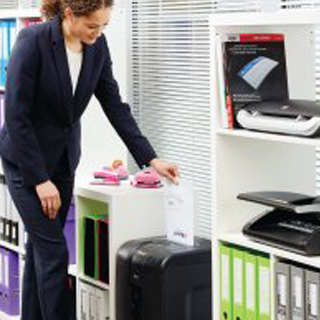 Top
Which cut type is best for me?
It's important to select the correct security rating rather than simply shopping by cut type. We always advise customers against shopping by cut type. Whilst cross cut and confetti cut shredders do generally shred a document into more pieces than a strip cut shredder it is the number of pieces that a shredder cuts a single document into that is far more important to consider. Our security level overview explains all you need to know to select the best shredder.

We try to help customers seeking to protect themselves by segmenting our range into groups suited for personal & executives, small offices, large offices, departmental, wide entry for A3 sheets, Auto Feed shredders and jam free shredders.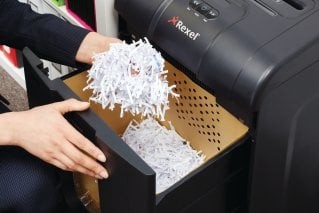 How small should the pieces of the shredded paper be?
This depends on the confidentiality of the document being shredded.

Our shredder rating guide provides a guide per type of document.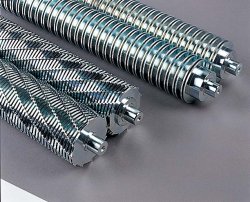 Top
How often are you willing to lubricate your shredder?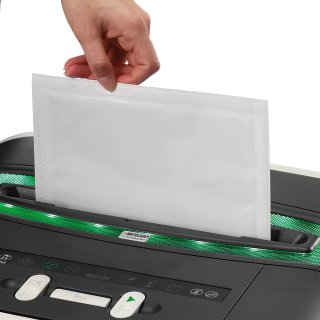 Are recyclable waste sacks available?
Recyclable waste sacks can be submitted directly for recycling rather than non-recyclable sacks which must be emptied before the shredded paper can be recycled.